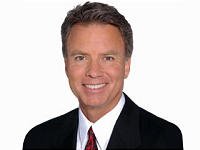 WFTV Eyewitness News anchorman Bob Ospahl opens up about his long career in Orlando in an interview with Sentinel TV Guy Hal Boedeker.
For example, has Opsahl ever considered leaving Channel 9 and Orlando for a job in a larger market?
Said Opsahl, "Like most folks in TV news, I had early visions of advancing to the so-called 'Big Time,' moving to larger markets, and possibly even the network someday. And I did have some offers over the years. But a few things kept me from making those moves. First, I love Orlando. It's been home base for me since 1968. And most of my family members live here, too. Second, I wasn't convinced that any success here would necessarily translate to another market. And third, I grew up in an Air Force family, where moving was a way of life. Many times when my Dad got transferred I would have to leave all my friends behind and start over again in another state. So, the opportunity to finally put down roots, and stay in one place was very appealing to me.
"And here's a fun fact: When I started at Channel 9, in 1978, the Orlando market was the 43rd largest in the country. Now, it's 19th. So, I did move to a much bigger market, and I didn't have to leave town."