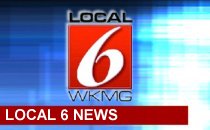 Something is up at WKMG — and it's not the ratings.
That's one likely reason the station is playing musical anchors. GM Skip Valet told the Sentinel's Hal Boedeker that morning anchor Lauren Rowe will now anchor the 11 p.m. newscast — displacing Jacqueline London, who will still anchor at 6 p.m. Moving into Rowe's morning spot opposite Erick Weber is Laura Diaz, who has been WKMG's weekend morning anchor.
Boedeker obtained an email Valet sent the WKMG staff: "You will notice some different anchoring assignments over the coming weeks. We are simply trying some new things over the long, hot summer. We feel we are now producing the most comprehensive and interesting newscasts in town, and we want our viewers to be exposed to all of the members of our strong team."
So, from the sound of the email, it appears the changes aren't permanent. Of course, there's nothing permanent in TV news, right? Read more from Hal here.
Do you think the moves will move the ratings needle in the right direction for WKMG? Sound off with your comments below….