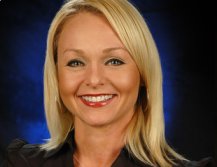 For more than five years, Christine van Blokland helped wake up Central Florida viewers on Fox 35's morning news. Well, that was until about a month ago when the morning features reporter departed WOFL.
So, why did she leave? Appearing Monday on Mix 105.1 FM's Morning Mix show, Blokland blamed it all on Fox 35 anchors Bob Frier and Amy Kaufeldt. (OK, she was just kidding about that.) Actually, she really didn't say why she left, but she did say she's busy working on some projects.
Does she missing the morning shift? What do you think? She said Monday's appearance was the first time in awhile she had to get up early, but because it was radio, she didn't have to worry about makeup.
And what has she been doing? The first week after leaving WOFL, she said she traveled to Aruba with her boyfriend. Still beat from the morning news grind, she said she looked like "the before picture" for the first few days until the thearaputic Aruban waters restored her.
She also shared her secret to what kept her going for five years of perky, high-energy morning reports on Fox 35. "Sugarfree Red Bull," she explained.