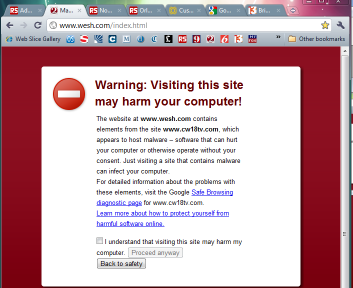 Looks like I'm not the only one who has been having problems with his website.
On Sunday, when I went to WESH.com to check on something, instead of the homepage loading, I was greeted with a warning page from Google:
"The website at www.wesh.com contains elements from the site www.cw18tv.com, which appears to host malware – software that can hurt your computer or otherwise operate without your consent. Just visiting a site that contains malware can infect your computer. For detailed information about the problems with these elements, visit the Google Safe Browsing diagnostic page for www.cw18tv.com."
The warning page appeared when using Google's Chrome browser and Firefox.