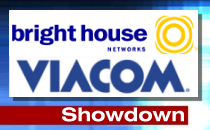 I suspect this isn't how Bright House Networks subscribers planned to start 2009 — with a bunch of popular channels missing from their cable lineup.
But that's what may happen because of a dispute with Viacom over extra money the media company wants for its channels. According to The Associated Press, Viacom has asked for fee increases of between 22 percent and 36 percent per channel — which Viacom says would total about an extra 23 cents a month per subscriber. Viacom points out that Americans spend a fifth of their TV time watching Viacom channels but its fees make up less than 2.5 percent of a typical cable bill.
The channels Viacom plans to pull off Bright House — and Time Warner systems nationwide — are: Comedy Central, CMT: Pure Country, Logo, Palladia, MTV, MTV 2, MTV Hits, MTV Jams, MTV Tr3s, Nickelodeon, Noggin, Nick 2, Nicktoons, Spike, The N, TV Land, VH1, VH1 Classic, and VH1 Soul.
That means no Daily Show, no Cobert Report and no Sponge Bob (well, that last one is actually good news.) It's all set to go down at 12:01 a.m. Thursday if a deal is not reached before then.
In a posting on its Web site, Bright House says, "MTV Networks wants our customers to pay millions more. They are currently demanding price increases that are nearly triple the rate of increase under our current agreement. These increases would be excessive even in a strong economy, but given the current conditions, it's simply not fair to our customers."
If or when the channels go away, what should you do? Bright House offers this solution: "While we work towards reaching an agreement, many popular TV programs from MTV Networks are also available at www.hulu.com or by going to the channel's own website."
Ahhh, so stop watching TV and spend more time on the Internet. I can support that.
If you have questions or concerns, you can contact Bright House at this link.