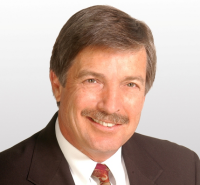 Anchor/reporter Scott Harris, a familiar face to Orlando TV news watchers since the 1970s, is now in hospice care.
David Waters, Harris' former colleague at Central Florida News 13, posted this update Saturday on Facebook: "For friends of Scott Harris, stop by if you are up to it. His family is moved by all the people who love him. It is time to mention it like this since a few people hadn't heard he was in hospice, and have raced to be with him."
Orlando Sentinel TV Guy Hal Boedeker reports that Harris has been battling kidney cancer.
Harris spent his entire career in Florida and is widely regarded for his political knowledge, coverage of the space program and great sense of humor. In the 1970s and '80s at WESH 2, he co-anchored the evening news with Wayne Bennett and later Carol Granstrom. He also worked as a reporter for WCPX-Channel 6 before joining Central Florida News 13 for its launch in 1997. He was at News 13 until March of this year, when he stopped anchoring. Sentinel columnist Scott Maxwell had a great post in March about Harris' changing role.
Our thoughts — and those of countless others — are with Harris and his family.