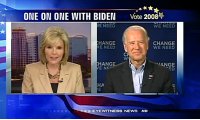 The spotlight continues to shine on WFTV anchor Barbara West in the wake of her much-discussed interview with Joe Biden.
On Monday, West was on CNN and Bill O'Riley's show on Fox News Channel to explain her oft-dowloaded interview with the Democrats' vice presidential candidate. She also plans to be on more national shows Tuesday. (Here's video of Fox News Channel coverage of the interview).
In a new follow-up story about the incident, West tells the Orlando Sentinel, "The thing that stuns me is that this has become about me. It's not a good thing. I am not trying to seek the limelight in any way," she said. "I did not do the interview to make headlines, but to get answers that people in the street want to know. When I'm doing fund-raisers, I see vast numbers …
of people. My questions were reflective of what they're asking about."
Those who charge there was bias in West's interview with Biden are pointing to the fact her husband, Wade, was previously a Republican strategist. And though West declined to give her party affiliation, registration records show she is a Republican, according to the Sentinel.
West says she has received about 10,000 e-mails about the Biden interview, and she says they are about 9-to-1 positive. We've received a handful of e-mails for West that visitors have mistakenly sent to us, and they are about 50-50 in support or criticism of her. Two examples:
"Great job Mrs. West !!!  All the media should take a lesson in journalism 101 from you.  The rest of the 'reporters' come up with such inane questions.   Bravo to you for showing the world what an actual journalist can do.  All you need is a brain and guts. And you certainly have both. Too bad you were banned.  I'd really like to know how much of our money is going to illegal  immigrants. Again – great job !!!," one person wrote.
"Ms. West, You poor undereducated fool.  You probably think Karl was one of the Marx brothers.  Have you never heard of the 16th Amendment to the U. S. Constitution, the Underwood Tariff and the principle of a progressive income tax.  If Obama is a Marxist, we have been a Marxist nation since 1914.  Go back to school.  Learn something," another wrote.
Finally, West wasn't the only local anchor to draw the ire of Biden and the Obama campaign. Biden reportedly became upset about an interview with a local Philadelphia TV station. Here's some video from that: