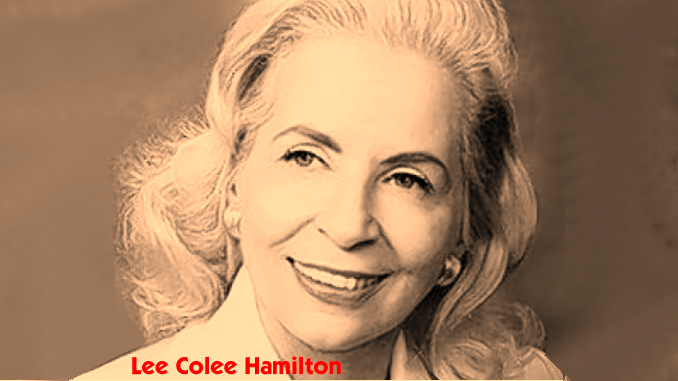 Orlando broadcasting pioneer Lee Colee Hamilton passed away earlier this month at age 90. She started at Orlando radio station WLOF  as an "office girl" then became what is believed to be Florida's first female broadcast salesperson. She eventually rose to sales manager at WLOF Radio and WLOF-TV Channel 9, which she helped launch in 1958.
Donn R. Colee Jr., who wrote a great book about Florida television history called "Towers in the Sand," shared the news of Hamilton's death on his Facebook page. He also included a section in his book about Lee, starting with when she was known as Leanore Dippy.
On Facebook he wrote, "After becoming the top salesperson at WLOF [radio] she married my father, Donn R. Colee Sr., who was general manager of the station at the time. Together they put Orlando's second television station, WLOF Channel 9 (now WFTV), on the air; then, after being recruited by MetroMedia owner John Kluge, became what Broadcasting magazine said was the only husband-wife management team in the country, evaluating and managing TV stations from Kansas City to Washington, DC. They divorced in 1968 but remained business partners and best friends until her death. She married Harry Hamilton in 1973 and, living in Palm Beach County, began a new career in commercial real estate—another very successful business partnership.
Lee was one of a kind and will be missed by all who knew her."
That's the short version of Lee's fascinating life. In a excerpt from "Towers in the Sand," Colee wrote about the gender issues Lee faced trying to sell advertising in the 1950s in Orlando. For starters, she changed her name from Leanore to Lee to help book appointments, since most clients assumed "Lee" was a man. He wrote, "A Buick dealer in Orlando, Sunny King, physically picked her up and put her out on the sidewalk in front of the dealership. She wouldn't stop selling him. I heard about it, and asked her how she could take such an insult. She said, 'That's not an insult, it's just a negotiation.' Next thing you know he is on the air."
Read the full "Towers in the Sand" excerpt about Lee Colee Hamilton here, and you can read her obituary here.