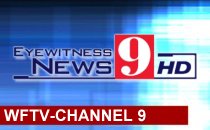 WFTV's Monday night special, recalling the Apollo moon landing 40 years ago, proved very popluar.
According to WFTV news director Bob Jordan, the space special drew a 3.7 rating and 14 share in the coveted 25-54 demo. "That's more than ANY newscast Tuesday on WESH, WKMG or WOFL. Kudos to EP Craing Patrick and Bob Opsahl," Jordan wrote on his Twitter feed.
Jordan also noted that the Apollo show went head-to-head with the CBS Evening News on WKMG. "It isn't close: a 14-share A25-54 for 'FTV, a 3-share for 'KMG," he Tweeted.
(If you missed it, the WFTV show can be viewed on WFTV.com)
And just to rub it in, Jordan notes that WFTV's top-rated Eyewitness News drew more 25-54 demo viewers than WESH-2, Local 6 and Fox 35 combined on Monday. Very impressive.