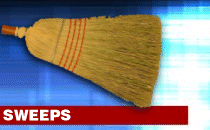 Orlando Sentinel TV Guy Hal Boedeker has more on the July ratings races in O-Town TV, including WKMG's fourth-place showing in the evening in the 25-54 demo.
"We were No. 4 before we made the changes," WKMG General Manager Skip Valet told Boedeker. "I think I'm better serving the audience. We're in the summertime, and everyone is down a little bit. I'm focused on how competitive we are in the morning and at 11 p.m."
More July ratings numbers after the jump …
As you likely know, WKMG dropped its 4, 5 and 5:30 p.m. newscasts in May, and it expanded its 6 p.m. show to an hour. The July ratings show that WKMG ran fourth in the 25-54 demo in the evening —  35,500 viewers for WFTV, 26,000 for WESH, almost 14,000 for WOFL and nearly 12,000 for WKMG.