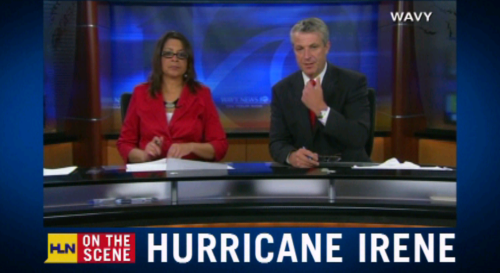 A couple of notes from a weekend of TV news dominated by Hurricane Irene…
HLN spent Saturday showing coverage from affiliate stations along the East Coast, including Norfolk's WAVY-NBC 10. On the desk there was former WESH 2 anchor Tom Schaad — a veteran of Orlando's hurricane-filled season of 2004.
Meanwhile on Sunday, WFTV News Director Bob Jordan — a man who doesn't hesitate to speak his mind — was busy on Twitter critiquing the New York-centric, doom-and-gloom storm coverage. Some samples of his entertaining tweets:
Watching network coverage of the (marginal) hurricane. All I can say is, "Oh, the hyperbole."
In 2004, 5 named storms hit FL. 3 of them (Charley, Frances & Jean) had winds in excess of 115MPH. Sorry NYC, your storm is puny.
Some of these network reporters (networks shall remain unnamed) look downright foolish.
ABC Reporter informs us that winds are about 20 miles per hour at his location. That's no typo. TWENTY miles per hour.
GMA anchor open at 9A references "MONSTER hurricane." This is not, has not been and will not be a Monster hurricane. It is a tropical storm.
WFTV had more boots on the ground covering the '04 hurricanes than ABC News does covering this "monster hurricane."
Not much evidence of social media on ABC this morning. They are behind the curve.
At 11AM, ABC graphics and copy still refer to Irene as a "hurricane." This is beyond hype, this is deliberate misinformation.