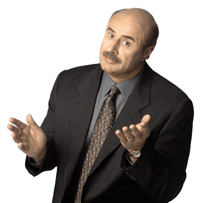 Some interesting news, considering WKMG's schedule shuffle that replaced its early evening newscasts with Dr. Phil …
Local 6's Post-Newsweek sister station, KPRC in Houston, has yanked Dr. Phil from its schedule — replacing the doc's show with another doc — Dr. Oz.
Here's what Broadcasting and Cable reported:  KPRC decided to remove Dr. Phil from its schedule due to disappointment with sliding ratings and disagreement over the show's content, said Post-Newsweek President Alan Frank. The station is continuing to pay the show's license fees, although it is not airing the show's national commercials, which are sold by CTD and provide additional income to the syndicator. "It's out of desperation that I did this," said Frank, who said he's personally met with show star and executive producer Dr. Phil McGraw to try and get his concerns resolved. "I did everything but stand on my head to get [CBS'] attention over the years."
And in Detroit, B&C says another Post-Newsweek station — WDIV — is airing Dr. Oz at 3 p.m. — and has seen its 4 p.m. news ratings improve by 33 percent compared to last year.
The irony is that even if WKMG wanted to replace Dr. Phil with Dr. Oz, it can't. Hearst-Argyle's O-Town duopoly of WESH and WKCF locked up Dr. Oz in this market. If anything, looks like it was — at the very least — a good defensive move by WESH.