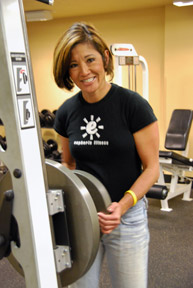 As part of its continuing coverage for Breast Cancer Awareness month, the Orlando Sentinel decided to check up on former WESH 2 News anchor — and breast cancer survivor — Wendy Chioji. It's a story with a happy ending.
After Chioji announced her breast cancer diagnosis on air 10  years ago and successfully staged a very public battle against the disease, she decided there was more to life than TV news. The very athletic anchor left Orlando behind to pursue a career in fitness and health.
"Cancer makes you reprioritize things…I decided I wasn't going to stay in a job that wasn't fulfilling any more.," Chioji told the Sentinel. "It was time to do things that you thought about, that you dream about. It was time for me to go."
So, how's her new life in Utah? The Sentinel reports that she's working part-time and freelance jobs that include being a a personal trainer, leading cycling tours here and abroad,  and also working as a reporter at the nearby Sundance Film Festival.
"Life's never been so good," Chioji said.