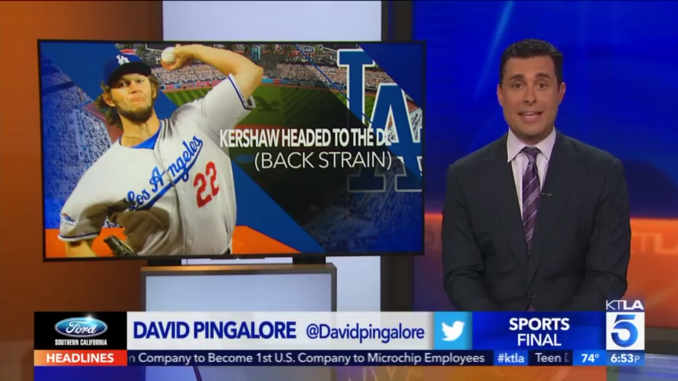 David "Ping" Pingalore may be moving on to bigger and better things after WKMG-Channel 6 decided not to renew his contract last month.
The longtime Orlando sports anchor posted a Facebook Live video Monday night from the newsroom of Los Angeles' KTLA-Channel 5. He'll be doing the sports report there tonight.
"I said a few weeks ago that I would be seeing you soon — I am here in Los Angeles, KTLA," Pingalore told Facebook viewers. "I will be on tonight at … what time is it? I forget the time."
Same ol' Ping. Actually, he's doing the sports report for KTLA's 6 p.m. and  10 p.m. newscasts. (That's 9 p.m. and 1 a.m. for those of us back in the Eastern time zone.
"I flew out here over the weekend, and I have my badge. The weather is unbelievable here in Los Angeles," he said. "Thanks everybody for the support over the last several weeks. Certainly very excited to be here."
Yes, Pingalore does have an official KTLA badge, but does he have the sports anchor job? He's actually filling in for KTLA sports anchor Derrin Horton, who just welcomed a new baby. But the Tribune Media station has had an opening for a sports anchor/reporter since October 2016. This could be a tryout for Pingalore, who reportedly was courted by a L.A. station during his time in Orlando.
"It is great to be out here. I am excited," he said.
You can watch him live at around 9:50 p.m. and 1:50 a.m. on KTLA's website's live stream — or just go to the site to find the replays.