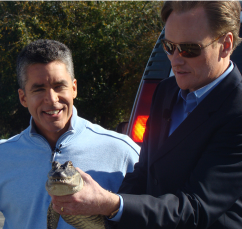 Conan O'Brien got a first-hand look at some Central Florida media stars when he visited WESH on Saturday.
O'Brien, in the area before attending Sunday's Super Bowl in Tampa, dropped by the WESH 2 studios to talk about his Bud Light Super Bowl commerical as well as his upcoming move from Late Night to the Tonight Show on NBC.  WESH anchor Jim Payne and Orlando Sentinel TV Guy Hal Boedeker interviewed O'Brien about both topics.
But it was the other local media stars who grabbed the late-night funnyman's attention. WESH had Gatorland deliver a group of gators and crocodiles to greet O'Brien (must be sort of like attending an NBC-Universal corporate meeting). The Gatorland residents, who have been featured on countless TV shows over the years, got up close and personal with the NBC star.
Click here to see a photo gallery of O'Brien with the gators and Payne at WESH.
Click here to read Boedeker's interview with O'Brien, and click below to watch video of the interview: