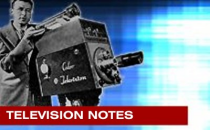 As if the long, strange saga of infamous "tot mom" Casey Anthony could not get any stranger … it does, of course. This time it involves attorneys Orlando TV stations are using as legal experts to help analyze the case.
It started Thursday, when Anthony's defense attorneys filed motions that meter reader Roy Kronk — who discovered Caylee Anthony's body — should be considered a suspect in the death of the toddler. WFTV-Channel 9 legal analyst Bill Sheaffer criticized the move, calling it "an all-time low on a grand scale." But Richard Hornsby — who is providing analysis to WESH-2 as well as other local stations — disagreed saying it was a "significant and credible" defense and "has a high likelihood of success."
But Hornsby didn't stop there in his analysis. He decided to analyze the analysis of WFTV's Sheaffer.
Hornsby wrote on his blog, "I was flabbergasted when WFTV-ABC 'legal analyst' William 'Bill' Sheaffer said: I deem these tactics as despicable' and then 'blasted' Mr. Baez on his blog (Does Casey's Defense Have No Sense Of Decency?), local news, and web video footage for WFTV-ABC. … The very conviction with which Mr. Sheaffer blasts the Anthony Defense on the Motion makes me question when he last opened up one of those law books he is always sitting in front of."
Hornsby also criticized WFTV reporter Kathi Belich. He wrote, "I think it is time that someone puts WFTV-ABC reporter Kathi Belich and her sidekick Mr. Sheaffer to task for their Pro-Prosecution pandering to the anti-Anthony sentiment, rather than providing objective analysis of the legal issues in the case so that the Central Florida community can have an informed understanding of the legal issues in this case."
You can't make this stuff up, folks.
Click here to read Hornsby's blog, click here to read Sheaffer's blog and click here to read Orlando Sentinel TV Guy Hal Boedker's take on this.