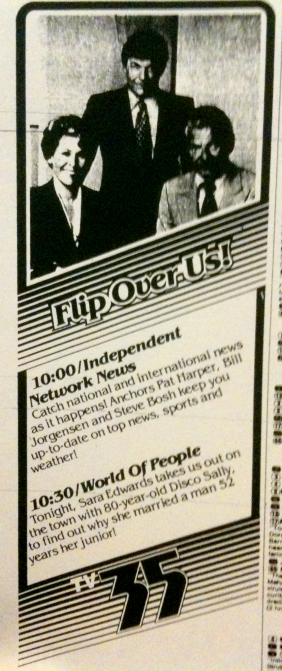 Today's "Blast from the Past" newspaper advertisement comes from the February 15, 1981, edition of the (Orlando) Sentinel Star.
It highlights the weeknight information programming on then-independent WOFL-TV 35. Like many independent stations, WOFL picked up the syndicated Independent Network News, produced out of WPIX-11 in New York City. For many small stations, including TV 35, this was the only newscast they carried. WOFL did air "News Capsule" updates in prime time, but I'm pretty sure they had not yet started when this newspaper advertisement appeared.
If you have trouble making out the type, here's what it says: "Catch national and international news as it happens! Anchors Pat Harper, Bill Jorgensen and Steve Bosh keep you up-to-date on top news, sports and weather.
INN was followed at 10:30 p.m. on TV 35 with the short-lived syndicatesd show, World of People. "Tonight, Sara Edwards takes us out on the town with 80-year-old Disco Sally, to find out why she married a man 52 years her junior." (Gee, I think I would like to know the answer to that myself.)
INN ran from 1980 to 1990. The start of Cable News Network and the birth of the Fox network make the need for a national 10 p.m. newscast on independent stations less important for viewers. That's too bad.
Here's a YouTube clip of Independent Network News.
And click here for previous entires in our Blast from the Past series.