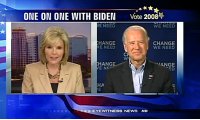 Supposedly unhappy with how WFTV anchor Barbara West conducted an inteview with Democrate VP candidate Joe Biden, the Barack Obama campaign has told Channel 9 not to expect any more interviews through the duration of the presidential race.
NewsBlues.com reports that what so offended the Obama campaign was when West asked Biden if "spread the wealth" was really just another way of saying "socialism." Ouch.
Here's the note the Obama campaign reportedly sent to WFTV:
"I regret to inform you that the interview scheduled for WFTV/ABC9 with Mrs. Jill Biden, today has been CANCELLED, as a result of her husband's experience yesterday during the satellite interview with Barbara West. This cancellation is non-negotiable, and further opportunities for your station to interview with this campaign are unlikely, at best for the duration of the remaining days until the election."
Click here to see West's interview with Biden
Sentinel TV Guy Hal Boedeker blogs about the incident. Here's what WFTV News Director Bob Jordan said:  "Mr. Biden didn't like the questions. We choose not to ask softball questions. I'm crying foul on this one." Click here for more from the TV Guy Blog.
Orlando Sentinel columnist Mike Thomas says West humiliated herself in the interview. Click here to read his thoughts.
What do you think? Take our poll.