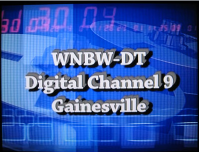 WESH's reach north is going to be diminished soon when Gainesville gets its own NBC affiliate. WNBW-DT 9 is scheduled to officially go on the air on Jan. 1 — but it has already been testing its signal (see the image to the left). Gainesville has had its own ABC affiliate, WCJB-Ch. 20, for a long time. It got a CBS affiliate a few years back — WGFL-Ch. 53.
According to the Gainesville Sun, Cox Cable in Gainesville must carry the new NBC station on its limited, basic lineup. But spokesman Rick Mulligan said there is still an agreement to carry WESH, so Gainesville cable viewers will have two NBC affiliates to watch.  We'll have to see how long that lasts.
"We're certainly going to brand the station to the point where they would rather watch the Gainesville NBC than the Orlando NBC," Michael Yanuzzi, president of New Age Media, told the Sun. New Age Media operates both WGFL and WNBW on behalf of owner MPS Media. Both companies are based in northeastern Pennsylvania.
Interesting footnote is that the WNBW call sign is pretty historic. It originally belonged to what is now WRC-NBC 4 in Washington, D.C. When WNBW began broadcasting in 1947, it was the second NBC station to go on the air after the network's flagship New York City station. It's call letters — which stood for NBC Washington — were changed to WRC in 1954.