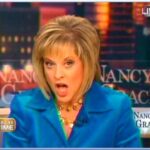 Nancy Grace, the caustic and controversial HLN talk show host, will be coming to Orlando … in the fall of 2010.
Her new syndicated show, "Swift Justice with Nancy Grace," has been cleared for 90 percent of the country, including O-Town. The show is being distributed by CBS Television Distribution. Here's what one salesman for CBS said about the show: "Nancy is a powerful force in television with a built-in audience that tunes in to hear her point of view. We're thrilled to have gotten such an immediate response from all of these groups, and their enthusiasm proves we've got the right show for them at the right time."
Orlando must certainly hold special meaning for Grace. Her nightly coverage of the Casey Anthony-Caylee Anthony case helped make her the top-rated talker on HLN. Her interview with Melinda Duckett, the Lake County mom of another missing toddler, gained national  attention when Duckett killed herself shortly after an interrogation by Grace. That incident has landed Grace in a legal fight where she's trying to avoid publicity.
Since CBS has signed national deals with both the Fox and Cox station groups to carry the show, my only question is which Orlando station(s) gets Miss Nancy? The Fox-owned duopoly of WOFL-Fox 35 and WRBW-My 65 or the Cox-owned duo of WFTV-Channel 9 and WRDQ-Channel 27? Any guesses?