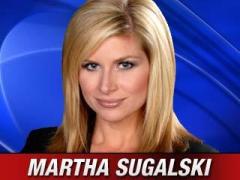 We knew WESH 2 anchor Martha Sugalski has many admirers (one former co-worker I know seemed a little obsessed with her — but he moved to another state, so I think Martha is OK.)
Daniel Dennis of Real Radio 104.1's Monsters in the Morning decided to put his affection for the Channel 2 anchor into song.
"Dear Martha," with Lou Vooten featuring DJ Dr. Unfrozenburg, starts out:  "Hey baby, you know I'm always watching you on the news. And I know you're on Channel 2 and everything, but if it was up to me, you'd be on Channel 1."
And the lyrics also note, "I can't think of a single word that rhymes with Sugalski."
After the jump, a link to listen to "Dear Martha"
You can listen to the "Dear Martha" song on the WTKS.com Real Radio 104.1 Web site here
What does Martha think? She Tweeted about the song, and Dennis says on his Web page that she even called into the show. "Special thanks to Martha for being SUCH a great sport," he wrote.