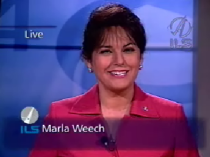 Wonder what's been up with former WFTV and WKMG anchor Marla Weech?
Weech, who lost her job at Local 6 in the station's first wave of layoffs in July 2008,  was spotted back in the anchor chair on Tuesday — this time providing coverage of a satellite launch from the Baikonur Cosmodrome in Kazakhstan.
Yes, you read that correctly: Kazakhstan. Even though the launch was halfway around the world, Weech wasn't.
She and launch expert Russ Prytula helmed coverage for International Launch Services from studios in Cape Canaveral. Tuesday's launch, the 53rd of the Proton rocket, was for AsiaSat. Weech also anchored an earlier Proton launch that had a Sirius-FM satellite on board. The company's next launch is set for mid-September.