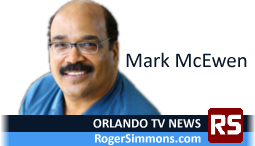 Good news for former WKMG-Local 6 anchor Mark McEwen. He's returning to network TV.
However, it's just for a day — next Saturday when he presents the weather on CBS' Saturday Early Show.
"It's very heartening to be back on TV," McEwen told Orlando Sentinel TV Guy Hal Boedeker. "I want to show people you can overcome a stroke or anything. I got in touch with them [CBS] about by doing entertainment pieces. They came back and said, 'How about the weather?' I said OK. It's a one-day fill-in."
As you likely know, McEwen suffered a massive stroke in 2005, just a couple of months after he was named the new morning anchor for Local 6.
Since then has come lots of therapy, public appearances to raise awareness about strokes and a book he wrote about his experience, "After the Stroke: My Journey Back to Life." He even has a website to promote the publication.
McEwen told Boedeker that while he's "doing fine," "I'm still kind of dealing with the aftermath of a massive stroke."