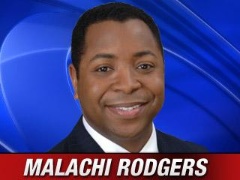 WESH-2 weekend meteorologist Malachi Rodgers looks like he'll finally have some weekends off. NewsBlues.com reports Rodgers is heading home to South Carolina to be the new weekday morning meteorologist on WSPA-CBS 7 in Spartanburg. According to his bio on WESH.com, Rodgers' hometown is Jonesville, S.C.  He was "formerly a meteorologist at WIS-TV, WACH-TV, and WOLO-TV in Columbia, S.C., and WCCB-TV in Charlotte, N.C.," his bio says. Rodgers joined WESH in October 2007.
Other changes in Orlando TV news…
Central Florida News 13 weekend anchor Adam Longo is heading out west, taking a weekend anchor and weekday reporter position at KPHO-CBS 5 in Phoenix, Orlando Sentinel TV Guy Hal Boedeker reports. Longo joined News 13 in 2009 after spending a year and a half at WKMG-Local 6, before being dropped by the station during a large-scale staff reduction. Long starts his new job on Aug. 27. …
NewsBlues.com says the man replacing Longo will be Joel Schipper, weekend anchor and reporter at WNDU-NBC 16 in South Bend, Ind. According to his station bio, "A native to the Midwest, Joel was born and raised near Grand Rapids, MI. He moved to Barry University in Miami, FL on an acting scholarship and finished his college career at Grand Valley State University in Michigan with a degree in broadcast journalism." …
Fox 35 has hired a new weekend morning anchor and weekday reporter. NewsBlues.com says she's Lauren Johnson, and she's coming to Orlando from Fox O&O WHBQ-Fox 13 in Memphis. If her name sounds familiar, that's because she previously worked in O-Town at News 13.