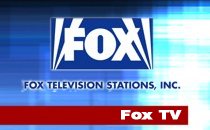 The clock is ticking, and Fox is ready to pull the plug on its channels on Bright House Networks at the stroke of midnight tomorrow.
Orlando attorney John Morgan took the mammoth media company to court today to try to stop it from cutting off its signals for the cable system. But, according to the Orlando Sentinel, Fox countered that a Florida court was not the right one to hear this issue since some of Fox's channels are under the jurisdiction of the Federal Communications Commission. Therefore, the media company's attorney argued, this issue should be taken up in federal court. Morgan countered that this was just a stall tactic by Fox. Read the full story here.
Assuming the two sides do no reach agreement on retransmission compensation, Bright House customers may be without Fox 35, MyNetwork 65, Sun Sports, Fox Sports Florida and other Fox-owned channels as early as New Year's Day. So, if you have Bright House, what should you do? Here are some tips on how to get Fox channels and programming:
First, if you have a digital television — one that gets HD signals — relax. You can easily pick up WOFL-Fox 35 and WRBW-My 65 with an indoor rabbit-ears antenna.
If you have an old analog TV, don't panic. All you need is a digital converter box. These will run you between $40 and $55. Click here to see examples from Best Buy. With one of these boxes, you can pull in all the local stations — including Fox — with an indoor rabbit-ears antenna.
OK, so you're set for all the BCS bowl games — including Tim Tebow's finale as the Florida Gators face the Cincinnati Bearcats in the Sugar Bowl. What about those Orlando Magic games on Sun Sports and Fox Sports Florida?
To get them, you're going to either (a) have to find someone who has a television provider other than Bright House, (b) sign up with one of those providers or (c) find a sports bar that doesn't use Bright House.
For you home programming, choices include Dish Network and DirecTV for satellite. (By the way, Fox and DirecTV are owned by the same company, so chances are you will never lose any Fox programming on DirecTV). In some areas of Central Florida, there is another option: AT&T' U-verse service.
Like all disagreements, this one will come to an end at somepoint. Hopefully, you won't miss to many of your favorite shows or sports events.