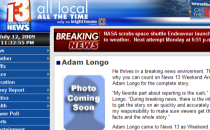 Some quick hits to start your week:
Nice to see reporter Adam Longo bounce back from WKMG's downsizing. He's got a gig with Central Florida News 13. His bio on the CFNews13.com Web site says he's weekend anchor, although I spotted him doing live shots on Friday when a busload of tourists stopped at Celebration hospital to get checked for flu-like symptoms. I know Adam hasn't been at CFN 13 that long, but could they at least grab a photo for his bio? …
Speaking of Central Florida News 13, while Longo's bio has been added, the one for Melissa Crabtree has gone missing. Anyone seen her? …
Are you a fan of NBC's smart and witty sitcom, 30 Rock? If so, good news. Fox and Tribune Co. announced a deal last week to air reruns of the Tina Fey show on their stations — and that includes WOFL-Fox 35 and WRBW-MyTV 65. The shows will air in the 2011 season. Read more here …
I'm still scratching my head over this one, but I sort of understand it. Got an e-mail from a Bright House customer in Marion County, upset that the cable carrier has dropped Ocala station WOGX-Fox 51. I didn't even think it was possible for that to happen — unless the station agreed to it, perhaps? WOGX used to be a nice, little independent focused on Ocala. But since becoming part of Fox's Central Florida "triopoly" of stations, which include WOFL and WRBW — it's not much of a station anymore. It's more like a repeater for WOFL's signal — with different call letters. Here's what Bright House is telling Ocala-area customers: "Marion County customers can continue to view FOX programming on WOFL (Fox) located on Channel 3. Most of the programming available is the same; however, the schedule may be different from that used by WOGX." Yep, the same — only different.