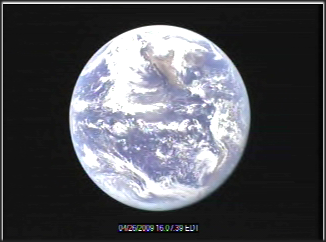 Unlike most Central Floridians, I don't have access to Bright House Networks cable where I live. It get my television via satellite — Dish Network, to be precise.
Dish has added a new channel called Dish Earth, and I must admit it's pretty cool. It's a live video stream of the Earth — taken with a camera mounted on Dish's EchoStar 11 satellite — orbiting about 22,300 miles above our planet.
Dish says the camera is the world's first Earth-directed camera mounted on a commercial communications satellite. "Six years in the making, the Dish Earth camera offers a 30 degree x 22.4 degree field-of-view that includes fascinating live full-disk views of the planet," Dish said in a news release. "The regular night/day cycle, weather patterns, and seasonal changes in the western hemisphere are clearly visible via the 'eyes' of the camera, which observe objects in the visible spectrum, similar to the human eye, with a resolution of about 20 km per pixel."
I wonder if the camera will pick up the next space shuttle launch in May, as its rockets into obit from Kennedy Space Center? That would be pretty cool.
Dish Earth is available on Dish Channel 212 — right next to the NASA channel on 213.