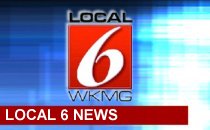 Finally … news from WKMG-Local 6 about folks who AREN'T leaving.
MediaStars talent representation reports that weekend sports anchor Todd Romero has signed a contract extension with WKMG.
FTVLive.com, citing MediaStars, says morning anchor Laura Diaz signed a multi-year deal with WKMG — but that bit of information is not listed on MediaStars' website. So maybe she did, maybe she didn't — but at least she's not leaving.