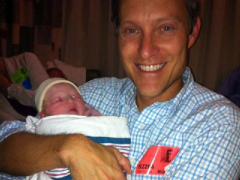 The fiercely competitive newsrooms at WESH and WFTV both had reasons to celebrate a new arrival in town this week.
WFTV anchor Vanessa Welch and her husband WESH meteorologist Jason Brewer welcomed son Wilson Beech Brewer on Monday night. He arrived a few days early at 20 inches and 6 pounds, 15 ounces.
"He's just perfect. He's so handsome," Welch told Sentinel TV Guy Hal Boedeker. "We're blessed."
The multi-station couple has been married for seven years, and Wilson is their first child.
"Mom, dad and baby all doing well," WESH news director Bob Longo told Boedeker.
Added WFTV news director Bob Jordan: "Vanessa's Channel 9 family is thrilled at the birth of Wilson. Vanessa will return to WFTV, but no firm date has been set."
Best wishes to Jason, Vanessa and "Wils."