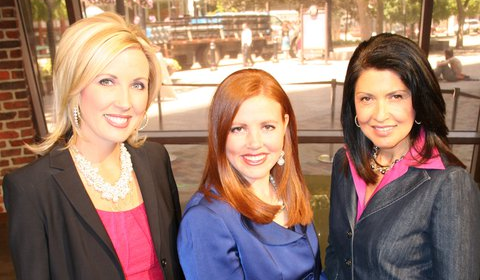 Yes, Virginia — there really is life after Orlando TV, and here are some examples to prove it.
Former Fox 35 morning anchor Heidi Hatch, who left the station in June, has landed at Salt Lake City's  KUTV. She'll be anchoring a new 4 p.m. newscast at the CBS affiliate  — with "Utah's only all-female anchor team," the station says. "KUTV is proud to welcome Heidi Hatch back to Utah to co-anchor the show. Heidi is a Utah native who is returning home from Orlando where she was a morning anchor for 5 years."  Hatch is definitely missed by her former Good Day viewers, who keep posting comments about her departure.
Another former morning host has switched mediums. WKMG morning anchor Laura Diaz has officially joined the morning crew at WXXL-106.7 FM. She popped up on the radio show just after she left Channel 6. Now, she's known on radio as Lady Laura.
Former WESH weekend anchor Craig Lucie has moved up to Cox flagship WSB-ABC 2, while WFTV reporter Mark Boyle has headed to Texas to Post-Newsweek's KPRC-NBC 2 in Houston.
Meanwhile, former WKMG sports anchor Todd Romero (below) has also found employment out west. He's been spotted doing sports report in Denver at the Tribune/Local TV LLC duopoly of  KWGN-CW 2 and KDVR-Fox 31.