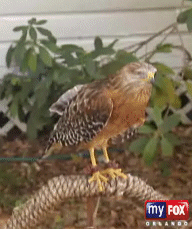 You have to be tough to be in the TV news business — dealing with angry viewers, demanding bosses and overprotective hawks.
Yep, hawks. Folks at WOFL-Fox 35 are making news themselves after an agressive mother hawk has been attacking employees outside the station's Lake Mary studios. One recent high-profile victim: sports anchor Kevin Holden. The Orlando Sentinel reported that Holden was outside the station early Saturday when something that felt like a heavy book struck the back of his head.  "It kind of pushed me forward," Holden said.
No, it wasn't a Nielsen book — it was a protective red-shouldered hawk that nests at the station. Holden wasn't seriously injured by the bird — he has a several-inch scratch and a few small marks where the hawk's talons struck. "I have a unique story to tell if nothing else," he told the Sentinel.
The nesting bird has been terrorizing employees at businesses around its nest, including Fox 35 and a FEMA office. And this isn't the first time this has happened. The same bird was causing the same problem at the same station in 2007.
The kicker is that because the bird is a protected species, no one at WOFL or the other businesses can do anything about the hawk — except wait for it to fly away
See the video below from Fox 35 news: