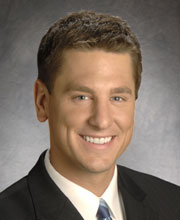 Come July, you'll see a new face weekends on the WFTV Eyewitness News anchor desk. But could he ultimately be Bob Opshal's replacement?
The newcomer is Josh Benson, who is currently morning anchor at KVOA-NBC 4 in Tucson, Ariz. According to AZBiz.com,  Benson will be  leaving Arizona at the end of May and begin his new weekend gig at Channel 9 on July 6.
But it's what else AZBiz had to say about Benson that's very interesting: "WFTV is owned by Cox Enterprises — parent of the company that owns Tucson's cable system — and has been Orlando's news ratings leader for most of the last 20 years. The station's main weekday anchorman, Bob Opsahl, has been in that position since 1984 and the word is he is planning to retired in about a year, which could propel Benson into the top spot in the market if things work out."
Back in December, it was reported that WFTV was beginning to think about who would replace Opsahl — and the weekend anchor position was mentioned.
According to Benson's bio, he joined KVOA in June 2005. Previously, he was the 6 and 10 p.m. anchor at KAAL in Austin, Minn. He interned at KSTP and WCCO in Minneapolis.