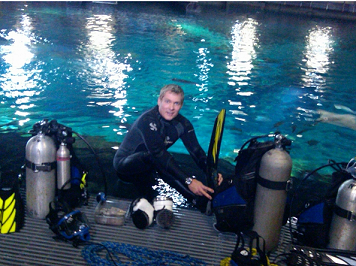 Good Morning America's Sam Champion was Tweeting Wednesday about his arrival in Orlando and visit to Walt Disney World's Epcot. The ABC News morning weatherman is at the theme park for Earth Day, and he's taking a dive in the Living Seas exhibit. (That's a Twitpic he posted Wednesday afternoon.)
If you tune in Thursday morning on WFTV-Channel 9,  you just might see Champion do the weather underwater, he tells Orlando Sentinel TV Guy Hal Boedeker.
Despite that silly gimmick, Champion said he takes the 40th anniversary of Earth Day very seriously.
"Our passion about environmentalism can come and go," Champion told Boedeker. "You can't be Mr. or Ms. Planet 24 hours a day, but deep down, we care about the world around us. We care about clean water, clean air, clean beaches."
Champion calls Earth Day "a reminder to take care of the place we live — it's like a reminder that pops up on your BlackBerry."