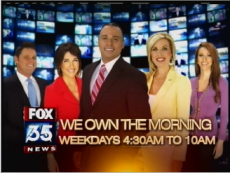 Just two weeks after WESH 2 launched the first 4:30 a.m. newscast in Orlando, it already has some early, early morning competition.
With little fanfare, WOFL-Fox 35 has expanded its morning newscast, now starting at 4:30 a.m. too. The Fox O&O now produces FIVE-AND-A-HALF hours of local news each morning.
Boasting "We Own The Morning," the station ran a promo for the expanded morning newscast during Tuesday night's Fox 35 News at 10. Also in the promo: anchor Keith Landry, who apparently has been taken off weekends and moved to the expanded morning show. That would answer the question I posed on Sunday, wondering if Fox had changed its weekend anchors. (I guess that's a yes.)
So, how long until WFTV's Eyewitness News Daybreak and WKMG's Morning News also expand to 4:30 a.m.?