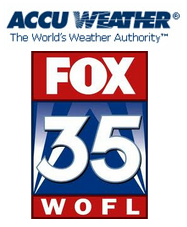 Self-proclaimed Weather Authority Fox 35 is getting some help in its forecasting department.
Fox Television Stations signed a deal with AccuWeather to partner with 11 Fox owned-and-operated stations. The deal includes running AccuWeather's content online and "jointly produced and branded content across virtually all of the stations' media platforms."
"Weather is one of the most important services our stations provide to their communities and has long been a major focus for FTS," Ron Stitt, the Fox group's vice president of digital media and internet operations, told BroadcastingCable.com . "This exclusive partnership with AccuWeather, a company who has been extremely effective in pursuing digital platform distribution, notably Connected TVs, will help us take our digital weather products to the next level."
Because of existing partnerships with competitors, the Fox-AccuWeather deal will not include Fox O&Os in New York or L.A. In addition to Orlando's Fox 35, the other Fox stations taking part in the deal are in Dallas, Atlanta, Washington, Detroit, Phoenix, Tampa, Minneapolis,  Memphis, Austin and Gainesville (which is really a satellite of WOFL).
Locally, WFTV had a long-running partnership with AccuWeather years ago (see video below).  I believe that Channel 6 (then WCPX) picked up AccuWeather for a short time after WFTV.