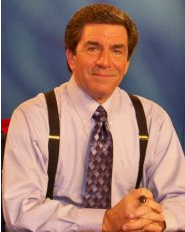 Former longtime Orlando anchor Steve Rondinaro has a new assignment: finding a job.
Rondinaro, the former WESH and WFTV anchor who in 2007 became the lead anchor and managing editor for WWAY-ABC 3 in Wilmington, N.C., was dropped by the station earlier this month. 
"By now you may have noticed that I'm no longer doing the evening news on WWAY. April 8 was my last night on television. I'm a budget cut," Rondinaro wrote in an article for the Wilmington Star News. "It's business. I'm simply another in an ongoing series of budget cuts at Channel 3. Like our local governments and about every other media business, revenue is down at WWAY, too. My contract was in the wrong place at the wrong time.
"The writing was on the wall several months ago. With the ax having officially fallen, I'm now part of a huge news story that I had been reporting on. I'll be in the next round of unemployment numbers. I'm not happy about that, but I'm not ashamed either. I'm now in the same boat as a lot of you. It's one scary boat."