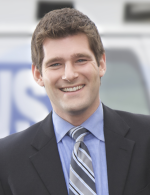 Definitely a first for Orlando TV: Former reality show contestant Jason Guy is the new morning anchor for WESH 2.
In a news release announcing Guy's hiring, WESH News Director Bob Longo said, "part of what attracted us to Jason is his fascinating and diverse career path."
According to WESH, Guy started in broadcasting when he was 18 — hosting a weekly teen program on the Mobile, Ala., Fox affiliate as well as a highly rated morning radio show. He then headed to California, landing a role as a contestant on the third season of CBS' Big Brother in 2002.
On his bio page on the Big Brother area of CBS' Web site, Guy said his greatest fear in playing Big Brother was, "That I will be able to keep my integrity as I play the game."
Asked to share his motto, Guy said, "There are only two things that can hinder your dreams: money and your imagination. If the second is great enough, the first will never be a problem."
After the jump, how did Guy do on Big Brother and how did he get into journalism
Guy made it to the final three on Big Brother and was named most popular house guest.
After his Big Brother experience ended, Guy stayed in the reality show biz — working in casting for NBC's The Biggest Loser, CW's Beauty and the Greek and CBS' The Amazing Race.
Guy started in broadcast jounalism three years ago at WRIC-TV in Richmond, Va. He has been part of the station's morning team for the past two years. He previously attended the University of Mobile, where he studied communication and broadcast journalism.
"I'm thrilled to be joining WESH and returning to Florida where I was born," Guy said. "I've approached every state of my career with enthusiasm and passion, and this new opportunity is no exception. I consider covering live, breaking news events and dealing with fast-changing situations to be two of my best skills. I'm excited to share those skills with Central Florida viewers."
Guy starts at WESH on Sept. 28, co-anchoring with Syan Rhodes. He replaces Scott Walker, who departed WESH last week to anchor at WDSU in New Orleans.