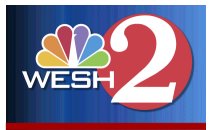 WESH on Tuesday began airing an additional half hour of morning news, starting at 4:30 a.m.
"We are always looking for opportunities to serve the local news and weather needs of our viewers at times that are both convenient and valuable to them," WESH GM Jim Carter said in a news release. "We saw that need in this time period and we filled it."
Many stations across the nation have been moving up their morning newscasts to 4:30 a.m. The reason? With longer commutes, folks are getting up earlier. And, as one TV wag once said, the best lead-in to news is news.
WESH 2 News Sunrise usually runs No. 2 behind WFTV's Eyewitness News Daybreak. Will getting a 30-minute jump on the competition at 4:30 a.m. make a difference?
The new  half hour of news will be anchored by Syan Rhodes, with meteorologist Amy Sweezey and traffic reporter Kimberly Williams, WESH said.
With the new 4:30 a.m. show, and continuing local news through 9 a.m. on WESH and then sister station WKCF-CW 18, the Channel 2 folks are now producing 4-1/2 hours of morning news each Monday-Friday.