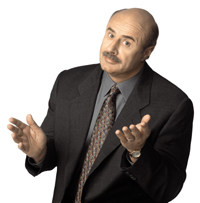 Because all the coverage on local TV and the Web, Nancy Grace and 20/20 just aren't enough, Dr. Phil will give his take on the Caylee Anthony saga on his show today. It airs at 7 p.m. on WKMG-Local 6.
According to Dr. Phil's Web site,  "Caylee Anthony's face has been splashed across magazine covers and TV screens since July 2008, and her mom, Casey, has been named a person of interest in the case. Many fear that the worst has happened to the missing 3-year-old. Dr. Phil examines the psychological aspects of a story that continues to grip America's imagination with its bizarre twists and turns."
If you've been following the case — and who can avoid it — you'll see lots of familiar faces. Plus, Dr. Phil brings in some new folks. Ernie Allen, president and founder of the National Center for Missing and Exploited Children, will answer questions about how come Caylee is getting such attention when other missing children — especially those who aren't white — are not.
Get a full preview of the show by clicking here.