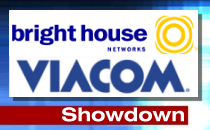 Wow! Not only did Bright House Network customers avoid losing their Viacom-run channels, but finally … after years and years of waiting … the cable company added Fox Sports Florida.
As reported earlier this week, Viacom and Bright House-Time Warner were deadlocked over a proposed rate increase Viacom wanted for its popular channels. Viacom was ready to yank the channels off Bright House's lineup at the stroke of midnight on Jan. 1, but a tentative last-minute deal was reached.
In a news release, Kevin Hyman, Executive Vice President, Cable Operations of Bright House Networks said, "We are pleased that our customers will continue to be able to watch the programming they enjoy on MTV Networks. We are sorry they had to endure a day of public disagreement as we worked through this negotiation."
But what about Fox Sports Florida? For years, Bright House has refused to add the cable sports channel. But that changed with the arrival of 2009. Bright House said Fox Sports Florida will be available on channel 50.
"This is a banner day for sports fans in Central Florida," said Cathy Weeden, Senior VP/GM of Fox Sports Florida and Sun Sports. "Bright House customers now have the opportunity to see Fox Sports Florida's award-winning coverage of their hometown teams, including all 77 Orlando Magic games offered on Fox Sports Florida and Sun Sports each season."
"We have worked hard to reach an agreement that works best for all of our customers, which has always been our goal," J. Christian Fenger, President of Bright House Networks Central Florida Division, said in a news release. "Fox Sports Florida is a strong addition to our lineup and will complement our already significant array of sports programming. We are very happy to make this happen."
Left unsaid … between keeping the Viacom channels (at a higher rate) and the addition of Fox Sports Florida, expect to see your cable bill rise very soon.