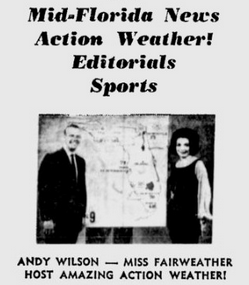 As regular readers probably know, we've been busy archiving newspaper advertisements for TV stations in Orlando (and other Florida markets too.)
We recently came across one that is a gem — a 1963 advertisement for Channel 9's "Mid Florida News." This was from the era long before Eyewitness News became "Central Florida's News Leader." At this point, the 5-year-old station was struggling for an audience and trying all sorts of gimmicks to try to grab viewers from WESH-2 and WDBO-6.
That included "Andy Wilson and Miss Fairweather" hosting "Amazing Action Weather" on WFTV. Since this was the era way before computer graphics, I hesitate to ask what part Miss Fairweather played in providing the Action for "Amazing Action Weather." Does anyone know who Miss Fairweather is (or was)?
But, another piece of Orlando TV news lore: Yes, we had our own weather girl on WFTV. See the full WFTV ad here.