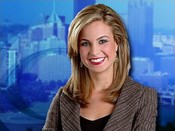 WOFL has found a replacement for anchor Corrina Sullivan, who decided not to return to the station after her maternity leave.
The newcomer is Sonni Abatta, currently the morning anchor at Pittsburgh CBS O&O KDKA. Sentinel TV Guy Hal Boedeker says she will start at the station on July 20, and that she'll anchor the 5 p.m. show with Cale Ramaker and Amy Kaufeldt, and the 10 p.m. show with Ramaker.
According to the Pittsburgh Post-Gazette, Abatta's last day at KDKA is this Friday. 
Abatta started anchoring KDKA's morning and noon newscasts in January 2005. She graduated from Carnegie Mellon in 2003, started out as an intern at KDKA, then became an off-air reporter trainee. A short six months later, she was on the air doing morning weather reports. Former KDKA news director Al Blinke said Abatta earned her on-air role from her six months in her trainee position. She "probably worked harder, covered more important stories — even though you may not have seen her on air — than anybody starting out in a small market," he told the Post-Gazette.
During her tenue in Pittsburgh, she caused a bit of a stir in 2006 when she abruptly when from being blond to brunette. She said she received lots of feedback — from the public and her boss. "You would have thought I shot the pope," she told the Post-Gazette, although she blamed the uproar on her "own stupid mistake" of not forewarning her boss.
On her Twitter account, Abatta says, "I'll miss the Burgh but am looking forward to the warm winters. :)"