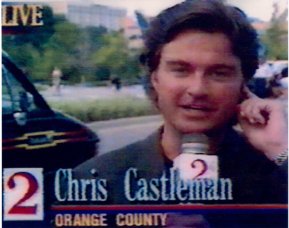 Catching up on news that happened while I was occupied redesigning Central Florida's most popular local Web site (you know which one) …
During the Orlando Magic's amazing run to the NBA Finals, I heard from former WESH meteorologist Chris Castleman. He was with WESH-2 during the Magic's first run to the Finals in 1995, and he was kind enough to share some photos taken from his on-air work covering the hoopla surrounding Shaq, Penny and the gang. Of the shots, he wrote, "Most were outside at the O'rena. The helicopter bit was something we did with [Hearst-Argyle sister station] KPRC-TV in Houston. …. Hope all is well in Orlando. GO MAGIC!" Well, there's always next year, Chris. (See another photo of Chris with Wendy Chioji in the background at bottom of this post ) …
Some folks have been asking, "Where's Fox 35 anchor Corrina Sullivan?" The night-time anchor has been out on maternity leave for awhile — and apparently isn't coming back. According to a reliable poster on our TV News Talk message board, "She decided to be a stay-at-home mom. She came in for one day to clean out her desk and say goodbye. She is a consummate professional and her departure is a loss not only for the station, but for the industry."
Speaking of WOFL, it wasn't that long ago that Fox 35 went HD for its newscasts and had snazzy new graphics. In fact, I thought they were the best HD graphics in town. Guess I must have been in the minority. The station has now tweaked the blue graphics for ones that are more red — which do look more like something you would see on Fox News Channel. …
Yesterday, we reported WESH anchor Scott Walker's impending departure to WDSU in New Orleans. Here's how the Times-Picayune reported his upcoming arrival. …
Deborah Norville will anchor Inside Edition from WKMG in O-Town on Thursday. Sentinel TV Guy Hal Boedeker reports that Norville will be in town to give out the Florida teacher of the year award earlier in the day.