Bear wanders into downtown, Orlando TV news stations pounce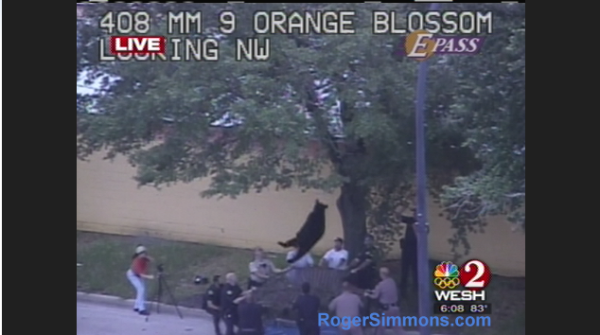 It was breaking bear news you can use on Orlando's big four TV news stations Friday night. WESH, WFTV, WKMG and WOFL all spent nearly the first 10 minutes of their 6 p.m. newscasts waiting for a young black bear to fall out of a tree. Holy, Goldilocks!
The bear was spotted in downtown Orlando near Orange Blossom Trail and State Road 408 around 12:30 p.m., according to the Orlando Sentinel. At 6 p.m., wildlife officials shot the bear with a tranquilizer gun. Some eight or nine minutes later, it came plunging out of its tree and into a net held by local law enforcement officials.
The bear reportedly appeared unhurt and will be relocated to the Ocala National Forest. (Local 6's 7 p.m. news had its chopper show live coverage of  pickup truck transporting the bear back to the forest.) Now, before we go back to regular programming, here's your complete bear team coverage  …